Linkline Newsletter
August 2016
With Linkline's new and exciting social media campaign underway, now is the perfect time to engage with our customers via a bi-monthly newsletter.
The aim of the newsletter is to engage with our exisiting client base, in order to inform, share and celebrate all news and developments about Linkline.
In each edition we'll be sharing recent activities, our goals, industry challenges and even an insight into some of the individuals who make Linkline a success, in the IamLinkline feature.
In our August edition and our first IamLinkline, we featured none other than the Linkline Directors Gerard & Rita Culbertson.
Here's what they had to say….
What's your name?
– Gerard & Rita Culbertson
What's your role at Linkline?
Managing Director & Director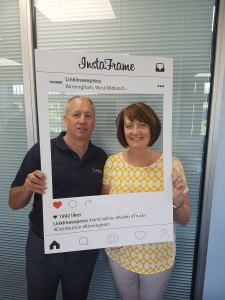 How long have you worked for Linkline?
25 years & 10 years
What do you enjoy most about working for Linkline?
Being able to make positive decisions to drive the business forward and watching our team develop in their roles.
You win £50,000, how would you spend it?
Travelling and some new Banjos
Outside of work, what do you love?
Cycling, Banjo playing and drinking Gin
If you could have anyone in the world as your Linkline apprentice for the day, who would it be and why?
Boris Johnson
Tell us a joke
– I was walking down the street the other day, and a power tool fell on my head…honestly, out of nowhere and Bosch.
Share This Post:
News Archive
Contact Us
Unit N, Dorset Road
Saltley Business Park
Saltley,
Birmingham, B8 1BG
admin@linklineexpress.co.uk
Tel: 0121 327 4936
Fax: 0121 327 3974