All aboard the Linkline Lounge
September 2016
It's not often you walk into work and see an original and somewhat tired looking 1966 double decker bus sitting in your warehouse.
But that's exactly what Linkline's Managing Director – Gerard Culbertson has been doing over the summer holiday.
Regents Park Community Primary School commissioned local builder Brendan Breslin of BB Construction (Midlands) Ltd to bring the original 1966 double decker bus back to life, in order to create a learning centre for their pupils and local community.
Usin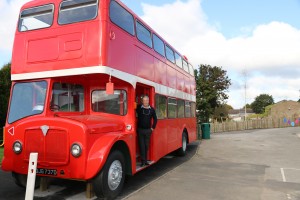 g an area of Linkline's newly acquired 35,000 sq ft warehouse as a workshop, Brendan quickly set to work.
For everybody at Linkline, seeing the gradual transformation of the bus over the school's summer holiday was a real privilege. Impressed with the project and the cause it represented, Gerard was keen to help it along, as he was aware that funding was tight.
On behalf of Linkline Express Services, Gerard handed over a donation of £250 as well as contributing to the lounge area with beanbags and pillows – aptly creating the 'Linkline Lounge' for the children and staff to enjoy and learn in comfort.
The School has ambitious plans for the future of the bus, including a school radio station aimed at inspiring children in the arts. Gerard hopes that Linkline can be a part of future developments and encourage further fundraising for this inspiring and exciting project.
Share This Post:
News Archive
Contact Us
Unit N, Dorset Road
Saltley Business Park
Saltley,
Birmingham, B8 1BG
admin@linklineexpress.co.uk
Tel: 0121 327 4936
Fax: 0121 327 3974